The Misfit Monster
Weigh off
Jon Hunt can rest easy for at least another few weeks. His California record is intact - both officially and unofficially. The heavy gourds weighing in at the Los Altos HIlls Misfit Monster Weigh Off were unable to break Jon's iron grip on the California title.
Growers from all over the area attended the festivities including a contingent from Napa - who arrived early and strangely without any pumpkins. They swilled down most the beer before the other guests arrived and kept asking for permission to go to the bathroom. I think they showed up just to keep me honest - and check out the other inhabitants of my patch. These guys are real competitors.
The results were as follows:
1st : Vince Zunino - 971 pounds (922.5 Emmons x 995 Carter)
2nd: Walt Dabel - 370 pounds (654 Troy x 797 Troy)
3rd and 4th: Josh Siegel - 19.5 and 17 pounds
The third and fourth place pumpkins were officially disqualified since they had no visible cracks or holes into the cavity.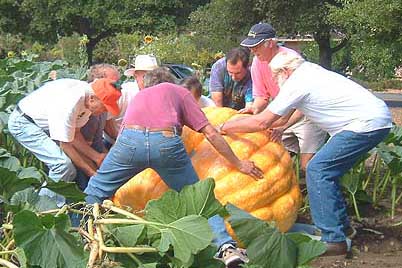 Geneva Electric is plucked from the patch
by a bunch of hungry Homo Sapiens
In keeping with my luck this season, the pizza arrived late but everyone had worked up enough of an appetite pushing pumpkins around that it tasted pretty damn good!
All in all - it wasn't such a bad way to spend a beautiful fall afternoon, just having a good time with friends and neighbors under the big tree in my front yard....
vince
best 971, 2002
zone 9, the split zone