The Magic Begins on
Cinco de Mayo !
My seeds dove into the kelp brew today with childish enthusiasm. I was shooting to start May Day (May 1) but did not have the back patch ready.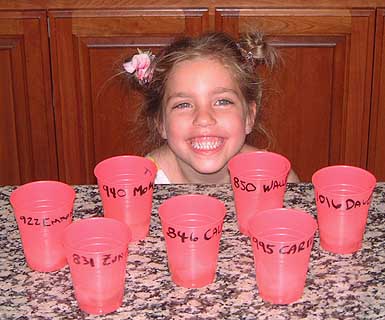 Olivia is happy with the line-up
The line-up is:
In the Yin and Yang Patch,
Mound 1 - 831 Zunino, backup 831 Zunino
Mound 2 - 922 Emmons, backup 1016 Daletas
In the Back Against the Wall Patch,
Mound 1 - 846 Calai, backup 995 Carter
Mound 2 - 940 Mombert (98), backup 850 Wallace
The seeds splash and swim in their own little pools of kelp brew for about 8 hours, then they jump into the pots and take a long warm sauna......
vince
best 831, 2001
zone 9, the pumpkin zone